Tagged Pages Archive | United
,

This guide will attempt to organize everything someone living in the Regina area might want to know about flying out of U.S. airports.
If you see anything in this guide that looks incorrect, out of date, or could just simply be improved with better info, please don't hesitate to contact me and I'll fix / update it.

Flying out of Minot, North Dakota (MOT)
How long of a drive is it?
According to Google Maps, Minot airport is about a 4 and a half hour drive from Regina (401 km each way). map link
Don't forget to account for border-crossing times in each direction. You can find estimated wait times online.
estimated wait times at U.S. border
estimated wait times at Canadian border
Tips:
- If you travel to the States a lot you may wish to get a NEXUS card for $50 (US) for 5 years and eliminate the line ups at borders and airports. [Info on how to apply for NEXUS]
Are there good deals to be had?
Typically, the best deals out of Minot are found on the two low-cost carriers that fly out of MOT, which are Allegiant Air and Frontier Airlines. Minot airport also has flights on Delta, and United.
strengths:
The most likely reason someone from Regina would want to make the trek down to Minot to fly somewhere is to get to Las Vegas for a lower price than out of YQR. Typically this would be using Allegiant Air. The only other destination that Allegiant flys to from Regina is Phoenix. Frontier Airlines also offers flights to a variety of U.S. cities, usually via their hub in Denver.
weaknesses:
Internationally, deals out of Minot are less likely to be much cheaper, or can involve routes that are at least as complicated or lengthy as flying out of YQR. It's a smaller airport, and it's biggest strength is usually flights within the U.S. It doesn't hurt to check international flights though, as Delta or United can sometimes have flights that are significantly cheaper than flying out of Regina. Also, when comparing costs, be aware that Allegiant charges extra for absolutely everything, including even carry-on luggage now.
How much would I have to save for it to be worth the drive?
This is a tricky question, because the answer is different for everyone, based on the variables involved. But costs you should consider factoring into your comparison (besides the roundtrip flight price) include:
- extra fuel costs (how fuel efficient is your vehicle?)
- baggage costs
- parking your vehicle at the airport
- cost of hotel if it requires an overnight stay
- how much your time is worth
- extra vehicle depreciation
I've created an Excel spreadsheet to help calculate what the true savings are when flying out of Minot:
click here to download the spreadsheet in Excel format
or
try the U.S. Airports Savings Calculator via Google Docs
screenshot: (click to enlarge)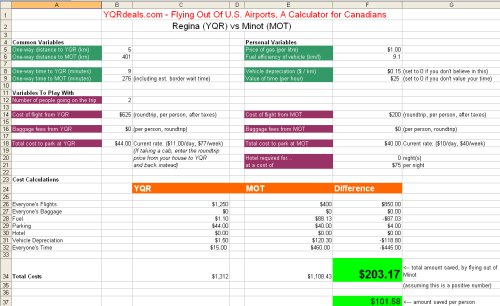 Go to the YQR vs MOT worksheet and enter in a few variables to calculate what your true savings would be. Using common averages, I've found that if the flight from Minot is about $325/person less than the flight from Regina, the average person is only breaking even.
In my opinion, when the flight from Minot is at least $425 less per person than the flight from Regina, it becomes worth the drive. This is based on my calculations using average factors, and 2 people in a vehicle. You can see the example in the spreadsheet that was used to draw this conclusion.
How much is parking?
Parking is currently $10/day, or $40/week, according to the Minot Airport website.
Is there any public transportation from Regina to Minot airport?
There are no great options unfortunately.
Links
See Something Wrong?
If you see anything in this guide that looks incorrect, out of date, or could just simply be improved with better info, please don't hesitate to contact me and I'll fix / update it.
I've been waiting a long time for this! Turkey has always been near the top of my list of places on this planet that I want to check out (and it's a long list). Fares are *never* cheap though, and usually hover around a minimum of $1300-$1400 roundtrip after taxes.
Read more


There's a huge fare war to Amsterdam (AMS) going on at the moment. It's extremely rare to see the major airlines drop a price to Europe like this from Regina.
Read more


Update September 9th:
Read more


Anyone that's ever tried to fly to Denver knows it's not a cheap city to fly to. Fares usually hover in the $525 range or more for the cheapest flights.
Read more


Just noticing that United has some really cheap flights to Dublin, Ireland at the moment out of Minot, North Dakota.
Read more


Just thought I would let people know that United's flights to Madrid, Spain from Minot have dropped to $713 roundtrip after tax.
Read more